The coronavirus pandemic has dramatically changed our daily lives. The way we work, the way we spend time with friends and family, and even the way we get food have all changed. Perhaps no activity has changed more than shopping.
The piles of delivery boxes on our doorsteps are evidence of how much online shopping has grown. You may even be on a first-name basis with your Amazon Prime, FedEx or UPS driver. According to a recent report from the U.S. Census Bureau, second quarter 2020 retail e-commerce in America increased 44.5% year-over-year, to $211.5 billion. Many experts think the increase in online shopping is here to stay.
Have you ever stopped to think about how online shopping impacts the environment? For example, after opening that new pair of shoes, what do you do with packing materials like air pillows, bubble wrap or packing peanuts?
This is an opportunity to make a change for the better in 2020 – hone those recycling skills. Check out these easy tips for recycling shipping materials and packaging, so you don't have to think twice about clicking "Add to Cart."
Air Pillows, Bubble Wrap, Shipping Envelopes and Bubble Mailers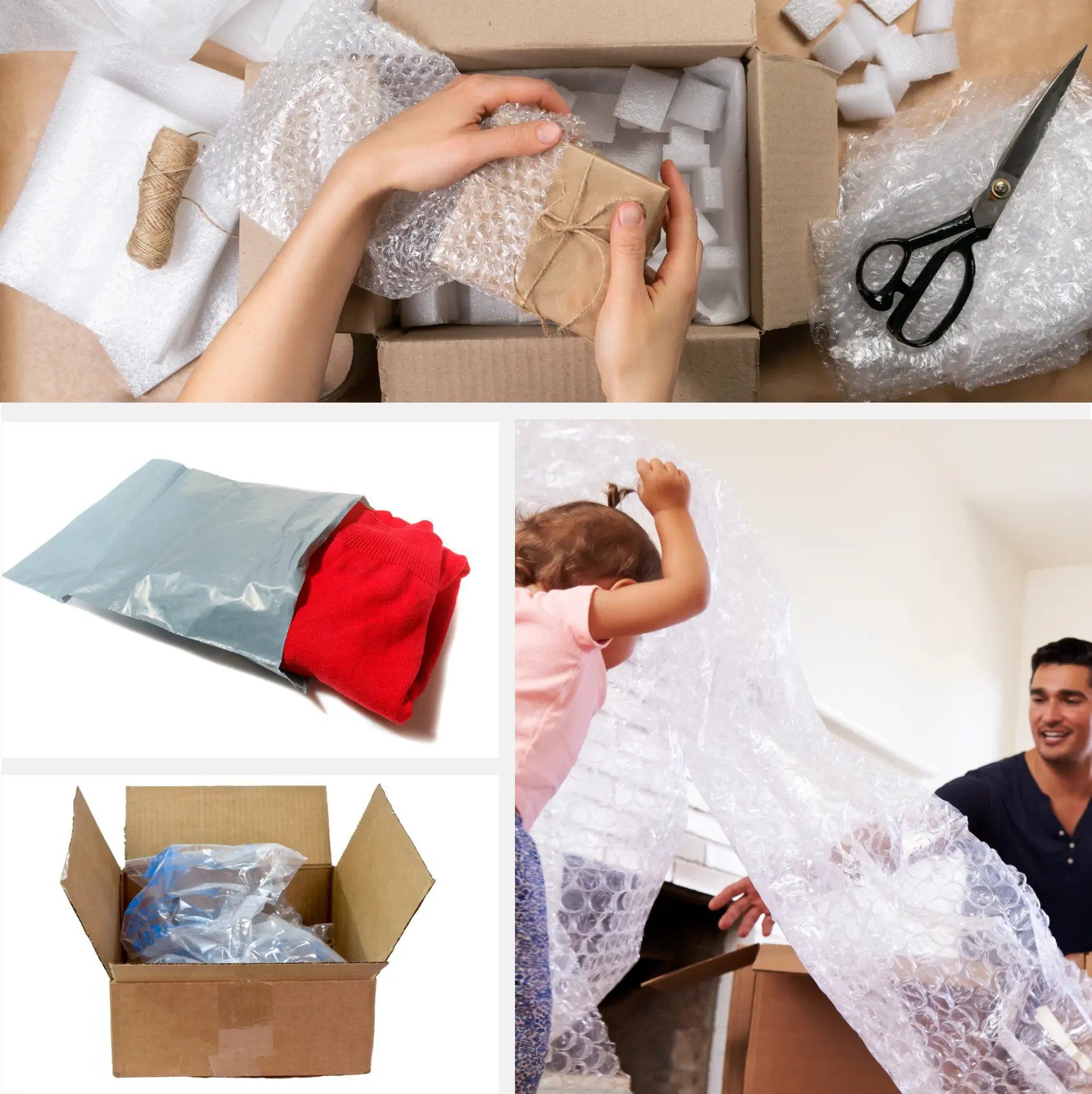 Your order arrived safe and sound. Now, what to do with the packaging that protected it?
Reuse It: Collect and reuse the shipping pillows, bubble wrap and bubble mailers. Even if you're not shipping anything soon, air pillows and bubble wrap are great for packing delicate household goods or storing fragile things in closets, garages or storage units.
Recycle It: Things made from flexible plastic film – like air pillows, bubble mailers and bubble wrap – are generally recyclable. They're usually made of the same kind of plastic as grocery or shopping bags – HDPE or LDPE.

DO find a drop off location near you to take them off your hands. Thousands of grocery stores and retailers like Target, Walmart and Lowe's will collect these items along with plastic bags and wraps for recycling. While store signs are usually labeled for plastic grocery bags, you also can drop your plastic shipping envelopes, apparel bags, air pillows, bubble wrap and bubble mailers in the same bin. (Remove any paper labels first.)
DO puncture air pillows to release the air and drop them in the storefront bin. If you're not going to reuse your bubble wrap, recycle it the same way (after some therapeutic bubble popping, though!).
DON'T place these items in your curbside bin – they can get caught in sorting equipment at recycling facilities.
DON'T recycle bubble envelopes made with both paper and plastic.
DON'T recycle air pillows made with biodegradable or compostable plastic (they're often clearly labeled as such). These are not accepted for recycling and should be put in the trash or compost. Be sure to check before you go!
Packing Peanuts
Packing peanuts – what do we do with them? While they are generally made from foam polystyrene, which is recycled in some places, most curbside recycling programs don't accept them. Here's what you can do if your community doesn't recycle packing peanuts and you don't want to throw them away:
Check with UPS or other local shippers: Some UPS stores accept clean foam packaging peanuts of all sizes, shapes, and colors for reuse. Contact your nearest UPS store to find out.
Search for local recycling facilities: There may be a facility near you that either collects or recycles packing peanuts and other polystyrene items. Check this interactive map to find where to recycle polystyrene near you in the United States and Canada.
Reuse them: Reusing packing peanuts might be easier than you think. Posting an ad on websites like Craigslist or Facebook Marketplace, giving them to friends who are moving, or storing them away for another package or move are all possibilities.
Your Role in Creating a More Sustainable World
The next time you get an item delivered to your door, think twice before tossing its packaging into the garbage, and consider ways you can reuse the material or check for local facilities that will recycle it. Actions like these can go a long way in helping us move from treating plastic products as single use to seeing them as reusable resources and creating an environment with less plastic waste.
Check out other recycling tips and ways to overcome "Bin-Decisions" here.
Continue to visit America's Plastic Makers: Making Sustainable ChangeSM to learn more about how communities, companies and brands are recycling and using recycled plastics.