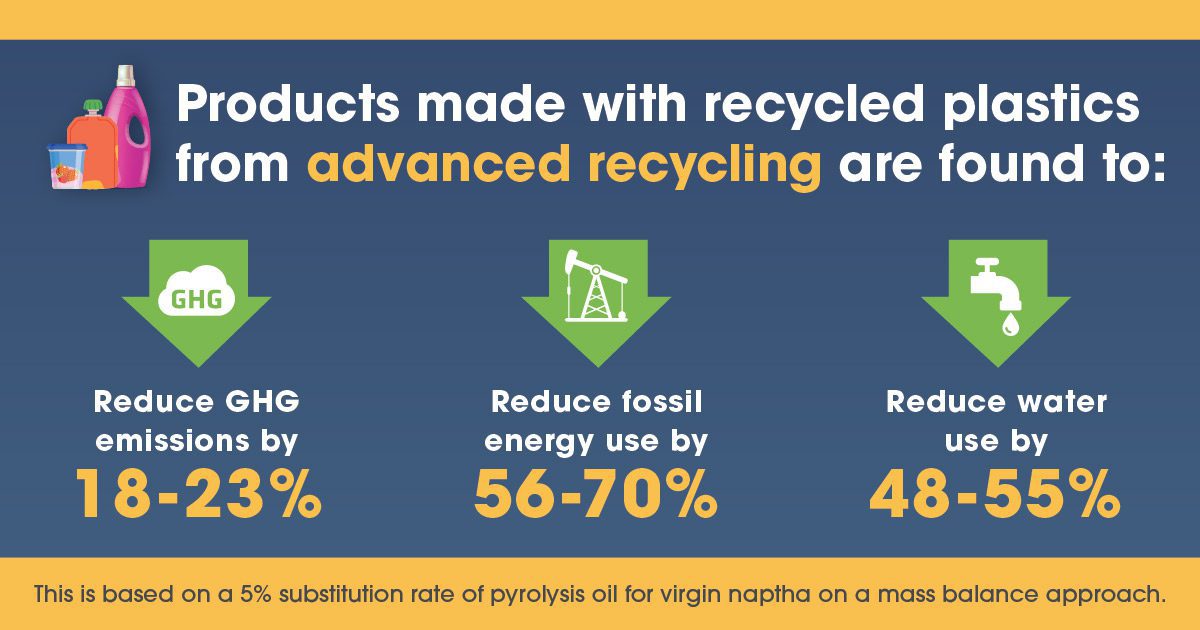 As the new President of America's Plastic Makers®, I'm delighted to share some good news. 
For the past few years, multiple enterprises, large and small, have been racing to deploy new-ish technologies to recycle more plastic. Typically called advanced or chemical recycling, these technologies transform used plastic into their original building blocks that can then be made into new plastic. Again and again. These technologies can dramatically increase the types and amount of plastic that we can recycle. 
These Innovations raise a big question: Does advanced recycling reduce the environmental footprint of making plastic? A smattering of studies over the past few years has suggested so. But since the use of these technologies is rather new, it's taken a while to get real data from real operations. 
We now have that real information. And it's good news, indeed. 
Argonne National Labs
: "
Plastic production via advanced recycling lowers GHG emissions."

The U.S. Department of Energy's Argonne National Laboratory looked at 2017-2021 data from eight "used plastic to new plastic" advanced recycling facilities. Researchers found that making plastic from used plastic through advanced recycling can drive down the environmental footprint of plastic manufacturing… significantly. 
Argonne researchers found that substituting 5% of feedstock made from advanced recycling in place of conventionally produced feedstock reduces greenhouse gas emissions by up to 23%. And reduces fossil energy use by up to 70%. And reduces water use by up to 55%. 
With just 5% recycled content! Imagine the further sustainability benefits as advanced recycling enterprises grow and the technologies mature.   
This is good news for everybody. By deploying advanced recycling technologies, plastic makers can improve the sustainability of their production. Brand companies can increase their use of recycled plastic. And consumers will be able to choose more products made from recycled plastic… and recycle more of their plastic. 
I look forward to sharing with you more good news about how America's Plastic Makers are combining innovation with sustainability for a lower carbon future and a more circular economy for plastic. 
If you want to dig into the data, the research was just published in the November 2023 issue of Journal of Cleaner Production.