It started with a concept and a blank sheet of paper. Plus some passionate people determined to launch a new way to recycle plastics that had been difficult to recycle using traditional methods.
"We started with a blank sheet of paper in 2019. But because of these creative people who had passion towards making this happen, we were able to develop a plan, gain support for our approach with our management, and ultimately get to the point where a commercial trial was authorized by all internal stakeholders."
Their goal: Take pyrolysis oil, made from plastic waste, and create new plastics with the same characteristics as the original plastics. (Sometimes called "circular polymers.")
"And ultimately, in October of 2020, we pulled it off, we did our first trial right at the plant. And then in December of 2020, we produced our very first certified circular polymer. So this went from concept in 2019 to reality in 2020. I'm really proud of what this team accomplished."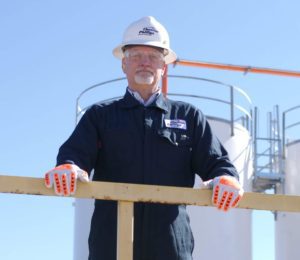 That trial demonstrated that advanced recycling technologies could fit into the business model of one of the largest plastic resin makers in the world, CPChem. Leading to the company's announcement: "Chevron Phillips Chemical successfully completes first U.S. commercial scale production of circular polyethylene from recycled mixed-waste plastics."
Meet Ron. One of America's Change Makers.
Ron was tasked with helping solve one of the world's pressing problems: plastic waste that doesn't get recycled and winds up in our environment.
"Consumers don't necessarily think about the plastics they use daily – until they become a problem in the environment. People have invested their entire careers in developing processes to manufacture highly engineered plastics that meet a range of critical societal needs. But then at the end of these products' useful lives, society doesn't have all of the infrastructure and technology to reclaim every material – especially those that are more complex. It's easier for the simple ones, that can, in theory, be mechanically recycled, but more difficult for the more complex ones…This became the focus of our project."
The CPChem team's goal was to leverage emerging technologies that can break down plastics into their original molecular components to then be converted to new materials that can be reused. CPChem needed a team to make this "advanced recycling" approach a reality inside a multinational company using mostly existing manufacturing assets.
"When I put the team together, I was looking for people with passion. So we needed people that were creative, people that had insight, had strong engineering and technical skills, strong collaborative skills, but ultimately people that had the passion. We ended up with a team of people that were very excited about the project and about the product, the possibilities that this project offered us."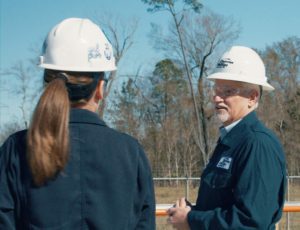 That "project" not only demonstrated a new way to recycle lots more plastics – it also broadened the prevailing business model to now include a new circular product that can meet a growing need for recycled plastics.
"Today, the economy is linear, meaning we take materials, we use materials, we dispose of materials. What we're trying to do is get closer to the circular economy whereby materials are produced, they're converted to a usable material that meets societal needs. But – at the end of the material's initial useful lifetime – it can be reclaimed, recycled and reused."
Moving to a circular economy will increase the types and amount of plastics that can be recycled… helping keep them out of landfills, incinerators, and unintended places in our environment.
"Advanced recycling picks up where mechanical recycling leaves off. Today, the U.S. recycles about 9% of all plastics. Some materials are recycled mechanically at 30% and this is increasing. We are targeting the remaining materials that are not easy to recycle.

Advanced recycling is intended to get society to the next level, where up to 30% of plastic packaging is recycled by 2030. To achieve goals like that, complementary technologies will be needed. And advanced recycling is one of those technologies."
And they're off to a good start. CPChem announced its aim to make circular polyethylene a significant part of its business by 2030 using advanced recycling.
Like the team at CPChem, Ron believes that teamwork will be needed to create this future, involving all actors from the value chain, the public sector and the consumers.
"At CPChem, we want to reduce the amount of waste we generate, we want to reduce litter. As a company, we want to reduce the resources we use. We can work together and pull these off, but it takes all of us working as a team."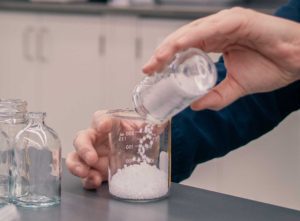 "It's going to take folks like our engineers and scientists, but it also is going to take all of us: the consumers, the waste haulers, recyclers, converters, brand owners, academic and national lab researchers, government leaders at all levels – everyone working together on this problem. But I think because of the momentum that's being built, we have a very strong chance to get there. I'm excited about what the future holds."
And in the end, it will be the younger generations' role to take the work of Ron's team to build a more circular economy.
"We're finding that there are more and more young people that are very interested in what we're doing, and very interested in what the future holds in these kinds of industries. So a lot of interesting passion is developing. I'm particularly excited about seeing the young people joining our company with their ideas and their passion. We have 5,000 employees, plus or minus. And it feels like we have 5,000 volunteers for sustainability. That's it. That's the kind of passion we need – and it's the kind of passion we're seeing across the company."
And there is one young person in particular that Ron is keeping an eye on.
"What's exciting about the future to me is that as we develop these technologies, people like my granddaughter who is 16 months old will live in a different world than we live in. She'll live in a world, I think, where used plastics are not viewed as being waste. They will be viewed as being valuable and reusable. A world where we will reuse these materials, and don't squander them. And my hope is that, through these efforts, she will live in a world where the plastic waste problem has been eliminated."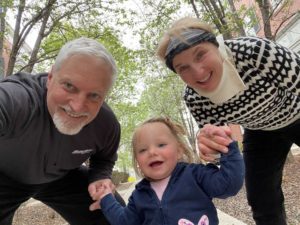 We wish Ron and his team continued success.