America's Change Makers
Penny and John, chemical engineers at AmSty
Their friendship started on a high note in college.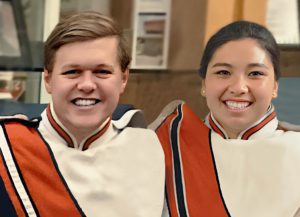 While studying chemical engineering at the University of Virginia, Penny and John met in the marching band. Engineering and music. Two very challenging endeavors.
Penny: "I heard that chemical engineering is very challenging, and I just wanted to challenge myself and do something that was difficult. And it was difficult. And marching band is also very time consuming."

John: "As she said, chemical engineering is very demanding. And she was the conductor, the Drum Major in the marching band. You have to be able to lead a large group of people, you have to be able to command a group of 300 people to perform a show. It's a challenging and difficult leadership role that she did really well."
Penny parlayed her degree and leadership experience into a vital engineering role: helping keep her fellow workers and local community safe at a facility that makes plastics.
Penny: "I'm the process safety engineer. What I do is really focused on keeping chemicals in the pipes, making sure our chemical storage units are maintained safely and that chemical reactions are done safely, and that the environment and community and the people who work here are safe."
When her boss asked her if she knew a good chemical engineer to fill a key job opening, she knew who to call.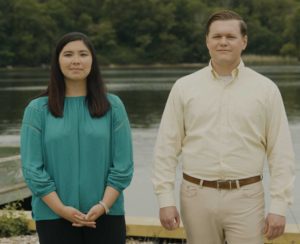 John: "Penny reached out to me and said there was an opening for a production engineer. And it was a great opportunity to really use my chemical engineering background in a manufacturing facility. I was happy to jump at the opportunity. My job is to produce our products as efficiently as possible."
And recently both Penny and John have taken on another challenge: helping revolutionize the way plastics are made – and remade.
They're helping their company Americas Styrenics LLC, or AmSty, jumpstart the "circular economy" for plastics by creating new plastics made with PCR: post-consumer recycled material. Plastics that have reached the end of their initial lives and are being made into new plastics, instead of ending up in a landfill, incinerator… or our environment.
Meet Penny and John. Two of America's Change Makers
While plastics help people around the world live better and more sustainably, Penny and John see "circularity" as the next logical step for plastics.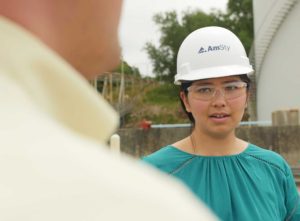 Penny: "A lot of plastics are really good at what they're designed to do. I see the next step as using post-consumer recycled (PCR) material to make them more sustainable."

John: "We have 60 plus years of making polystyrene production more efficient, faster, cheaper, better. But I think it's going to be our generation and the next couple of generations that really maximize recycling of the material."

John: "You can think of PCR like sugar being dissolved into iced tea. And then that liquid is fed into a reaction train where a liquid turns into a solid again. So you have a circular cycle of used plastic turning into a liquid and then back into a solid again."
John has a personal motivation for making this happen, for creating a circular economy in which plastics are reused instead of discarded.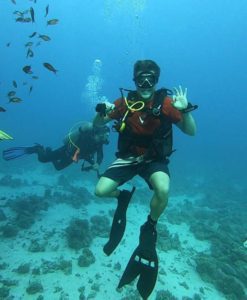 John: "I've been scuba diving for just over five years now, and I've been to the Red Sea and Egypt and Honduras and Belize. Nothing is worse than seeing trash, especially plastic, in the ocean. So it's something I'm passionate about solving. Attacking pollution and being able to tackle this problem is very important to me."
They both know this will not be a quick fix, that there are obstacles to creating a circular economy for plastics. But they're stepping up to help meet those challenges.
Penny: "The big challenge from a chemical engineering standpoint is all about taking production from lab scale to commercial scale. But we're doing it. We're producing PCR, recycled material, at a commercial scale and actually having physical products that people are buying that contain PCR."

John: "Finding the right technology to be able to recycle all the different kinds of plastics is really important. We're doing our part here. We've been doing it for 10 years, making that part of our product mix."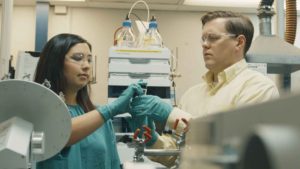 Penny and John have moved beyond the challenges of earning a degree or playing together in a marching band. They're now working together to meet the challenge of achieving a more sustainable future.
Penny: "We're excited for the opportunity to be on the frontlines of tackling sustainability and recycling challenges. We're up to the challenge. Aren't we, John?"

John: "Yeah, absolutely. It's a big opportunity, a great challenge to solve. And we're looking forward to evolving the technologies."

Penny: "Because we're chemical engineers. And we did band. And if we can do that right, we can do this."
We wish Penny and John continued success.