When Rennisha was growing up on St. Croix, her family lived through multiple devastating hurricanes.
"As a child, there were category four and five hurricanes that we experienced all the time. Hurricane Hugo was really detrimental to St. Croix and the Virgin Islands. And it took quite a lot of rebuilding."
Those memories still stick with her and influence her life choices.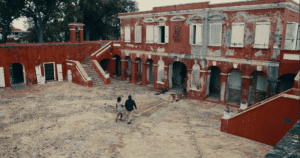 "If you look around the island, you'll still see some impact of the hurricane that happened several years ago. It can be scary when you can't reach your loved ones. It can be scary when they can't reach people for help when they have one of these catastrophic events."
"That's why it's super important to maintain the best connectivity possible, whether it be cell phone connectivity or making sure that they have power so that you know they're going to eat and have some of the basic necessities."
Now she's in a position to help. After earning her PhD in polymer chemistry, she was recruited into Dow's Building, Engineering, Science, and Talent (BEST) program at an industry conference and then accepted a role at Dow in Houston, TX. Today she helps customers build – and rebuild – the infrastructure that connects us. Including the connectivity that allows her to work remotely from a place she loves. Back home on St. Croix.
"I think I'm probably doing the most important work that I've done so far, because I'm working on infrastructure, literally, the nuts and bolts of what's needed to make society and people thrive and connect. It's critically important."
As senior marketing manager at Dow, she's able to help create a more resilient and sustainable infrastructure. For her island community. And for companies across the globe.
Meet Rennisha. One of America's Change Makers.
After working in multiple markets – transportation, infrastructure, consumer packaging, and more – Rennisha now applies her educational background to one of plastic's most fundamental roles: protection. More specifically, helping protect the countless cables that enable our modern lives.
"I'm a chemist. And if it's one thing I know, electricity and water don't mix. So we need to make sure that cables stay protected. And that's what plastics allow. But could you imagine your life without power? Can you imagine not having your phone or not being able to access the internet? I can't. So that's why what I do is so critical and why I really love what I do."
The innovative materials her company makes enable all sorts of critical infrastructure solutions.
Like fiber optics: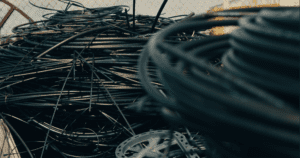 "Without plastics, we would not experience the joy of entertainment as we know today. As society becomes more reliant on data, fiber optics become increasingly critical given that they deliver high speed internet data, voice and images over long distances. These lightweight cables work by carrying pulses of light along flexible glass threads, which are as thin as a strand of human hair. These delicate glass fibers are protected from signal interference and harsh environmental conditions using jacketing, insulation, and buffer tubes, all manufactured from various types of plastics."
"Part of what I'm doing is coming up with new solutions to enable my customers to deploy 5G very quickly. We need to get it in urban communities, we need to be able to have that connectivity."
And power:
"Our products play a huge role in the power market, providing power protection in both underground power distribution and power transmission using plastics for insulation. Plastics are used to produce insulation, semi-conductive and jacketing materials used for power transmission, to move electricity from power plants to substations, and then for power distribution, to convert high voltage electricity from substations to lower voltages that are distributed to people who need it."
"Every morning when we turn on the lights, make our breakfast, and go about living our daily lives, we do so as a result of the protection role that plastics play in power transmission and distribution. Plastics are used to ensure that the aerial, underground and subsea cables that power our lives are robust enough to last for 20+ years. Power isn't valuable unless it's reliable, making plastics a critical part of our everyday lives."
And underwater cables: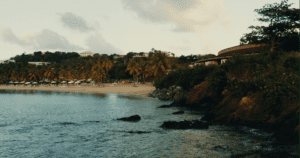 "When we put undersea cables in these beautiful waters, that transport data or power to St. John or to St. Thomas or other islands in the Caribbean, plastic allows us to do that. You wouldn't want wet cables. And you want them to be protected. And you want them to last. And that's what plastics allow."
These and other examples are helping us build a more resilient infrastructure that can last longer and contribute to sustainability.
Perhaps it's the memory of the aftermath of multiple hurricanes or her upbringing in the Virgin Islands, a place she considers to be a cultural melting pot, but it's clear that Rennisha has a broader view of sustainability. Her unique view is a reflection of her many experiences. From growing up in public housing with four siblings and a single parent mom… to a high school summer engineering program at Xavier University… to an undergrad degree in chemistry from Virginia State University… to an advanced degree from University of Maryland… to Houston, alone without family during a pandemic… and now back on the island where she was born and raised. She now believes she's making sustainable change. In St. Croix. And beyond.
"Sustainability is really important to me. I may think about it differently. To me, it's not just about making sure that we don't harm the environment. It's about enabling each of us to have a voice in how we innovate so that we solve the most critical problems while still living great lives, without harming the environment."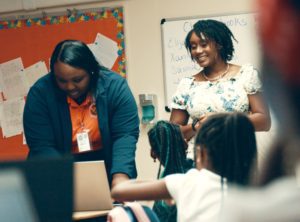 "I'm proud to be a voice at the table where I can listen and understand key problems and help figure out how to solve them in my community. It's all about having diversity at a human level so we can identify those problems and solve them together. I think that's all a part of sustainability."
"And when I explain it right, my mom knows and understands the value in what I do. And that's always been my litmus test. Does my mom understand that I'm actually pretty cool? She does now. And that's important."
Well said, Rennisha.
We wish Rennisha and her colleagues continued success.