'Tis the season for lots and lots of online ordering. So, what do we do with those thin, lightweight plastic shipping envelopes, bags and packages?
Here's our sustainable gift to you, dear reader: a simple explanation.
Question: How do I recycle plastic shipping bags and packaging?
 Answer: At a store, NOT in your curbside bin.
Read on for the deets… 
Someday, we'll all likely be able to recycle plastic bags and wraps in our curbside bins. But not just yet.
Today, VERY few recycling programs accept plastic bags/wraps in curbside bins. And if someone does toss them in at curbside, they gum up the machines at recycling facilities. So… please don't.
DETAILS: Yes, plastic bags and wraps are recyclable but ya gotta take 'em to the store.
Grocery and retail chains like Target, Walmart, Safeway and Kroger collect plastic bags/wraps for recycling at select locations nationwide.
While things are constantly evolving, here's one resource to help you find a retailer that can recycle your plastic shipping bags and packaging.
Which plastic shipping bags and packaging can you bring to the store recycling bin? Here's the typical rundown.
1. Shipping pillows.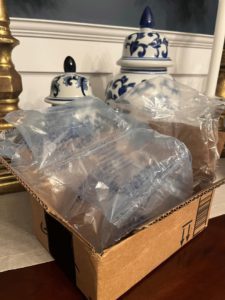 Amazing little things. They help can protect all sorts of delicate gifts during transit and not even register on a kitchen scale.
These efficient little dudes are reusable for shipping gifts. To recycle them, flatten them out and bring them to the recycling bin at a participating store. 
See how two companies are expanding curbside recycling of plastic bags/wraps.
2. Bubble Envelopes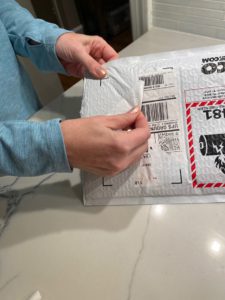 These shipping envelopes go to the store recycling bin, too. But be sure to peel or snip off any labels that could contaminate plastic recycling.
Read how one of our nation's preeminent consulting firms believes we can dramatically increase recycling of plastic bags/wraps. 
3. Packing bubbles (usually called Bubble Wrap®)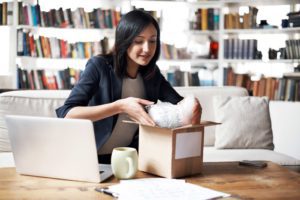 What's more fun than annoying your family by popping packing bubbles? Well, your gifts arriving intact can also be fun.  
Like shipping pillows, you can reuse these bubbles multiple times. And like the items above, you can recycle packing bubbles at participating stores.
Wanna meet someone who's helping us recycle more plastic bags/wraps? Her name is Danielle. 
4. Plastic Bags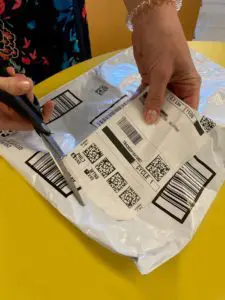 Some of your gifts arrive wrapped in thin, lightweight plastic bags. You can also recycle plastic shipping bags and grocery bags by bringing them to participating retailers for recycling. Here's a resource to help you find participating retailers.
Plastic recycling is evolving, just like plastic packaging. It's time to change the game plan. Click here to see what's happening. 
Pro-tip: Hang a plastic bag from a central doorknob/hook to stash your bags/wraps before taking them to the store drop-off recycling bin.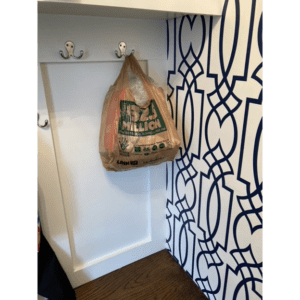 5) Miscellaneous plastic bags/wraps
In addition to shipping bags and packaging from online holiday shopping, you can find other plastic bags and wraps throughout your home to recycle at stores, such as:
Plastic overwrap on:
paper towels
beverages
toilet paper
newspapers
Plus:
drycleaning bags
bread bags
sandwich bags
freezer bags
produce bags
Just make sure everything is clean and dry.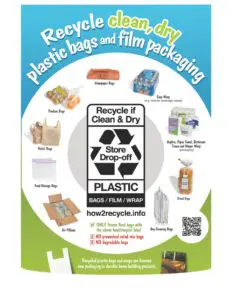 BTW: If you're not sure whether an item can be recycled, keep it out of the recycling bin. When in doubt, keep it out.
So please remember this holiday season…and all year long:
Recycle plastic shipping bags and packages at your nearest participating retailer.