America's Change Makers
As a native Texan, Danielle has heard one catchy phrase many times.
"Growing up in Houston, I would hear it all the time. I'd see it on bumper stickers. Don't mess with Texas. What that meant was do not litter. Don't throw your trash on the ground. Pick up behind you."
The statewide campaign made a lasting impression on her.
"It resonated with me. At my home, my dad would always say, 'There's a place for everything and everything has a place.' If I saw a piece of trash on the ground, I'd pick it up and put it in the trash bin."
As an adult with a baby boy, she believes that we can do much more than that.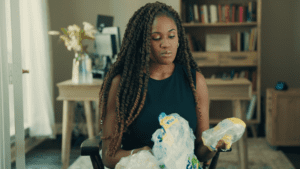 "I understand that there is one more step that we can take. Instead of going into the trash bin, maybe there's another destination for that piece of plastic or paper."
Today, Danielle can do something important to make her little boy's future a bit brighter. As North American sustainability manager for Dow, she's focused on recovering hard-to-recycle plastic. Not only keeping it off our streets and sidewalks, but also diverting it from landfills by finding new ways to recycle. To give used plastic a new life. Again and again.
Meet Danielle. One of America's Change Makers.
Danielle sees huge opportunities by shifting the way we look at "waste."
"Landfills are these big open spaces for our waste. It often goes unseen. And there's a lot of plastic. Landfills don't provide an opportunity for us to recapture and unlock the true value of it."
That raises serious questions for her.
"How do we capture plastic before it gets to landfills? How do we stop waste altogether and unlock its opportunity?"
These are questions she's helping answer.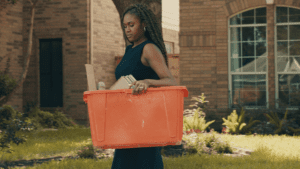 "Currently, our curbside recycling infrastructure only allows for certain types of materials. Like hard plastic water bottles, aluminum, paper. But not the hard-to-recycle plastic like trash bags, retail bags, dry-cleaning bags, and pouches that your food comes in, all sorts of things that typically go right into the trash bin."
These lightweight plastic "films" can be recycled but they need to be collected differently (like at store take back programs).
So Danielle is helping develop alternative recycling programs that can capture these types of plastic that typically are not collected in curbside bins. Such as pilot programs to collect plastic film in separate, specially designed bags. Programs that could help us learn how to collect and recycle a lot more plastic.
"Bag-based collection systems have proven to be very useful in collecting this type of used plastic. They're helpful in the way that they complement curbside recycling."
Fortunately, new technologies allow us to more readily recycle this type of used plastic.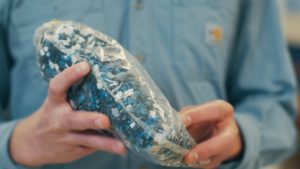 "The types of programs that I collaborate with are opportunities to take this hard-to-recycle plastic, divert it from the landfill, and give it a chance to have a new life. Whether it's through mechanical recycling where it can have one new life or through advanced recycling, which means it can be broken down into its original building blocks so that it can have a dozen new lives."
She sees these programs as her opportunity to contribute to a circular economy for plastic, in which plastic is reused instead of discarded. A future her company is working to achieve.
"A more circular economy is achievable. When we think about the idea of disposal, does that mean it goes away? There is still value in those disposed items. Especially when it comes to used plastic."
Having a baby boy reinforced her appreciation of the role plastic plays in our lives.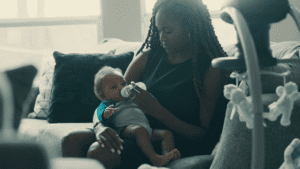 "I think being a mom has truly opened my eyes to see how plastic is an integral part of our lives, whether it's my son's baby bottle or the syringe his doctors use to give him medication."
And being a new mom also makes her want to create a brighter future for her son. A future where used plastic is no longer considered "waste."
"I want to make sure that he has a world that he gets to enjoy, that he can see the beauty in the world. I can do my part by ensuring there is more than one way to collect and recycle used plastic."
In short, Danielle wants a world where nobody messes with Texas. Or any place else.
We wish Danielle continued success.