Next time you hand out plastic bottles of water to cool off your kids after a soccer game, stop and think. Those plastic bottles are "single use" if you think of them only as bottles. Instead, think of all the things they could be if they weren't thrown away after one use. Today, plastic bottles are being recycled and converted into lots of new products, such as new bottles, or fabrics for the fashion industry. This ability to capture used plastics and turn them into raw materials to make something new helps demonstrate the concept of reuse in action.
Making a sustainable fashion statement
Global population growth has triggered an urgent need to address waste reduction, so manufacturers are finding innovative ways to make clothing by recycling materials once considered single-use products, like plastic water bottles. A number of brands are already creating jackets, textiles and other pieces of clothing from those bottles, including:
Gap – The Upcycled Raincoat is made with a 100% recycled polyester shell, and each jacket uses approximately 33 recycled plastic bottles
Everlane – The ReNew collection repurposes about 3 million plastic bottles to create a line of puffer jackets, fleece pullovers and durable parkas
Patagonia – 80% of the company's polyester fabrics are from recycled plastics, including the Down Sweater Jacket, which is made entirely from recycled polyester produced from plastic bottles
Adidas – In its Parley collection, Adidas uses recycled plastic bottles to form the upper parts of shoes, and clothing like jackets and jerseys.
Fiber manufacturer Unifi has designed a performance fiber known as REPREVE that's made from recycled bottles. Multiple brands, such as Ford, H&M, Nike and The North Face, use REPREVE in their products, and in the process help in the recycling of more than 20 billion plastic bottles.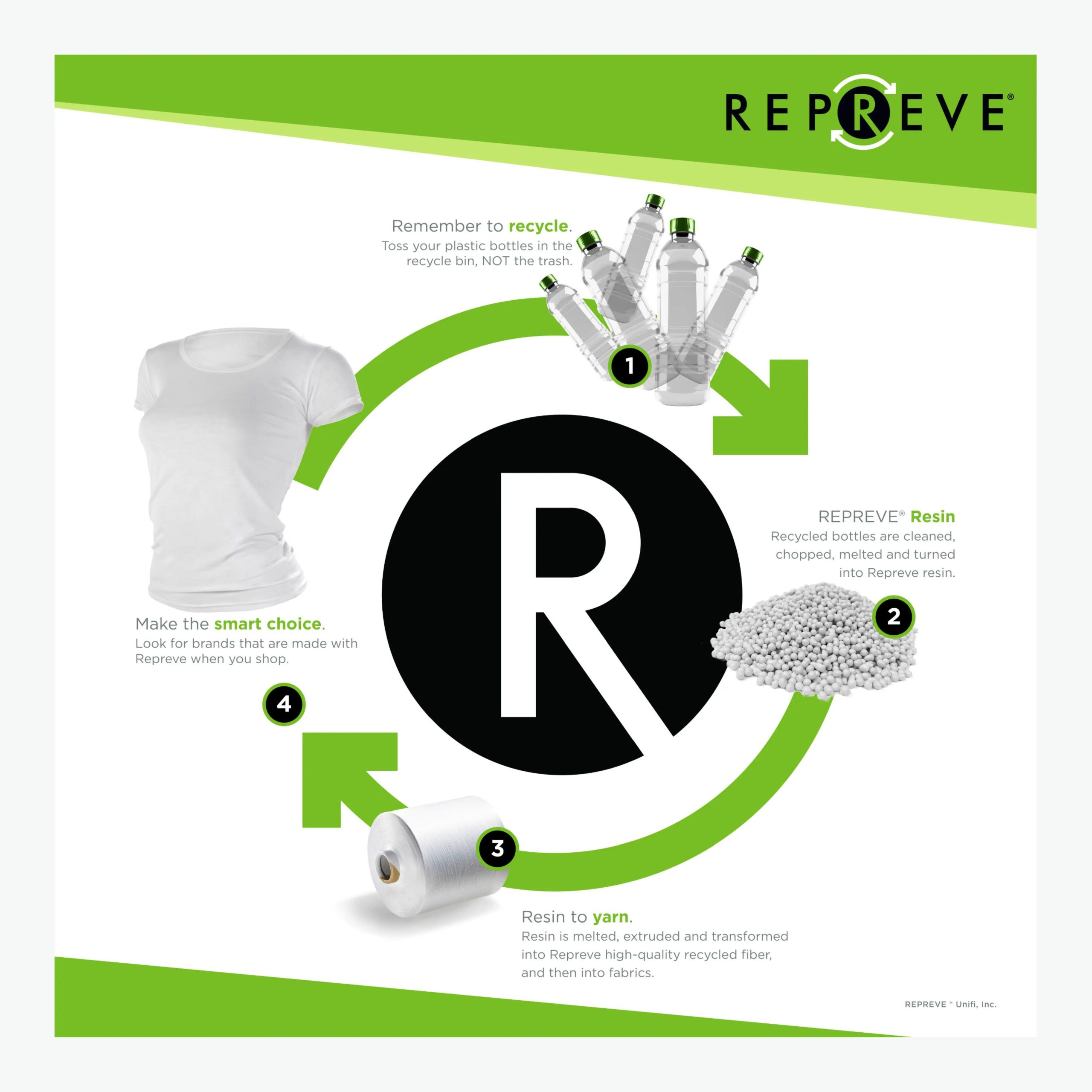 "At Unifi, we are committed to helping increase recycling rates and keeping plastic bottles out of our oceans and landfills," says Jay Herwig, Senior Vice President of Global Sales and Marketing at Unifi Manufacturing, Inc. "Our REPREVE performance fiber demonstrates the impact of recycling. Reusing plastic bottles to create new products results in a greener, more sustainable textile that also helps to preserve our natural resources."
Take action
Recycling plastic bottles to create a jacket is an example of reuse in action, closing the loop between what we no longer need (an empty water bottle) and a highly valued new piece of clothing. So look for clothes and shoes made from recycled plastics. To make life even easier, REPREVE has a tracker of all the brands using its fiber, so you can quickly search for your favorites. And of course, keep up on how to properly recycle according to your community's program, and you'll contribute to reuse by giving old plastics new life.
Continue to visit America's Plastic Makers: Making Sustainable ChangeSM to learn more about how communities, companies and brands are turning used plastics into valuable resources to make new products.