To help end plastic waste, America's Plastic Makers® explore innovative ideas and progressive solutions to create a circular economy for plastics. It's clear that the way we deal with plastic waste in the United States today isn't where it needs to be. Our current recycling infrastructure wasn't designed to handle the volume and different types of plastics we use these days. But with the help of member initiatives like the Materials Recovery for the Future (MRFF) program, we can begin to change that.
We are in a catch-up mode today in the industry.
– LARRY BANER
Senior Packaging Research Scientist, Nestlé Purina PetCare
A coalition to update recycling
MRFF was formed in 2015 by a coalition of recycling advocates to examine how existing recycling processes could be utilized to capture flexible plastic packaging (FPP) such as resealable food bags, pouches for laundry detergent pods and pet food bags.
Source: WasteDive 2019
Flexible packaging has many positive attributes — highly efficient, great product protection and low environmental impact. However, recovery has been one of its weak points.
– BRAD RODGERS
Foods Packaging R&D Director for Discovery & Sustainability, PepsiCo
A living laboratory for recycling
Recycling facilities typically have tremendous difficulties handling and separating FPP. MRFF's initial phase focused on testing the feasibility of separating FPP in recycling facilities where materials such as glass, aluminum, paper and plastics are brought in mixed from single-stream curbside recycling programs.
The results? By enhancing current technologies, recycling facilities could create a new stream of useful recovered materials from FPP, and at the same time reduce contamination of the other recyclables.
This is an important step in developing a more circular economy for flexible packaging.
– JEFF WOOSTER
Global Sustainability Director, Dow
Source: MRFF
Is it economically viable?
With overwhelmingly positive results from the initial phase, the focus went from "Can we make it work?" to "Can we make it work financially?" To that end, MRFF helped develop a financial model to estimate the costs and benefits of accepting FPP in curbside recycling programs. By plugging in their unique variables, recycling programs could get an idea if they could benefit from FPP recycling.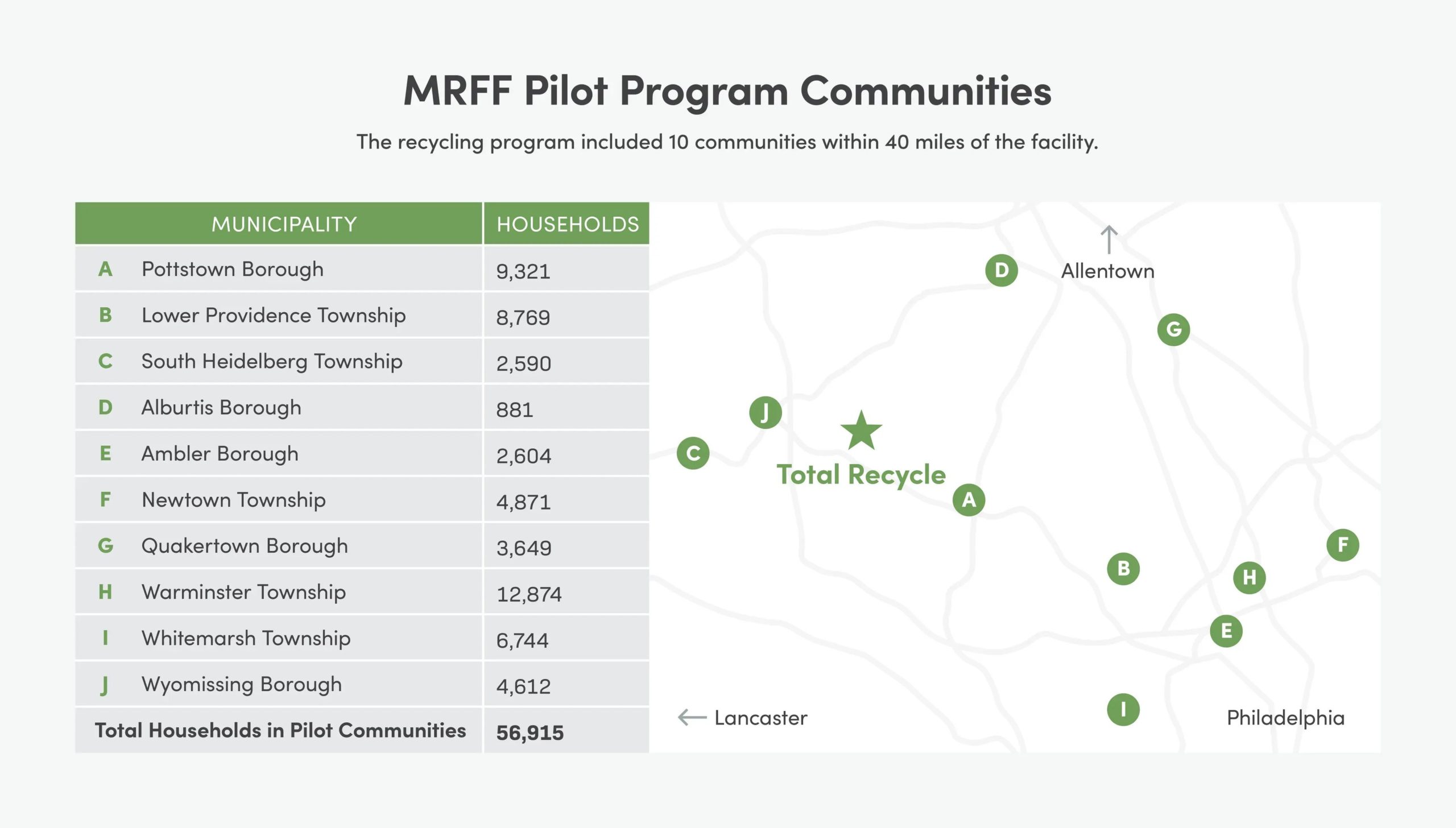 Source: MRFF
Pilot program: A proof point
The second phase also included finding a partner for MRFF to see how feasibility results would play out in an actual recycling facility. In 2019, MRFF launched a pilot program at Total Recycle in Berks County, PA: the first single-stream recycling facility in the nation to accept FPP in its curbside recycling program.
This pilot program experimented to learn the best ways to collect, sort and capture value from FPP. And the process worked — the program now produces a new recycled material called rFlex that can be used to make durable goods and other products.
Creating a sustainable path forward
While this facility potentially could produce up to 6 million pounds of rFlex each year, expanding the MRFF learnings to more recycling facilities could have a dramatic impact on plastic recycling, help reduce waste going to landfills and lead to a more circular economy for plastics. And keep these plastics out of our environment.
The MRFF project members include Amcor, Chevron Phillips Chemical Corporation, Dow, J.P. Mascaro & Sons, Johnson & Johnson Consumer Health, Kraft Heinz, LyondellBasell Industries, MARS, Mondelez International, Nestlé Purina PetCare and Nestlé USA, PepsiCo, Plum Organics, Procter & Gamble, SC Johnson, Sealed Air, Target, Unilever, the Walmart Foundation and Westlake Chemical, as well as the Association of Plastics Recyclers, the Canadian Plastics Industry Association, the Flexible Packaging Association, the Plastics Industry Association and the American Chemistry Council.